Lip Oil - One of The Biggest Skincare-Infused Makeup Trends of 2023?
Posted by KAIRAVI BHARAT RAM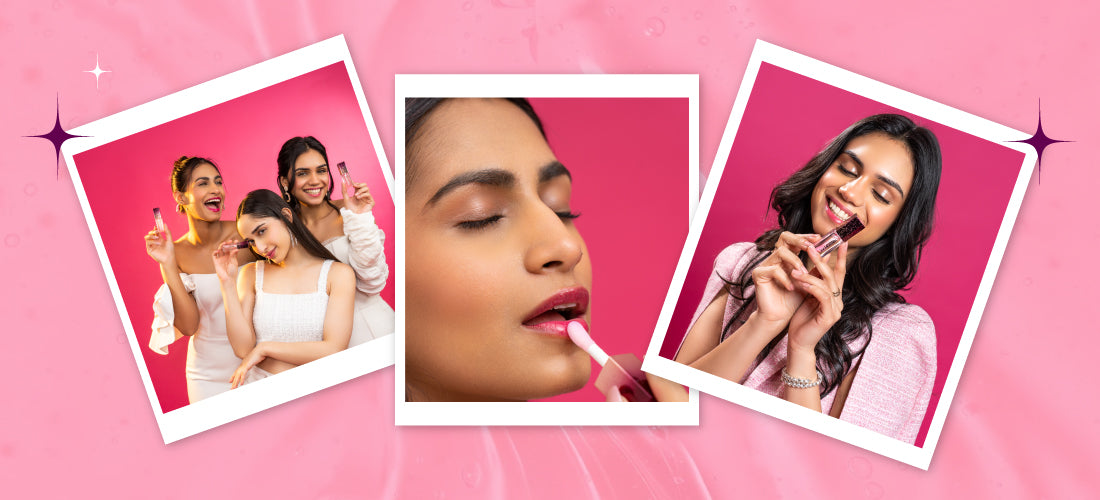 Step aside, traditional lip gloss! The beauty world is buzzing with a new sensation that's taking over our makeup bags and Instagram feeds. If you've grown tired of the heavy, sticky feeling that often accompanies your go-to lip products, it's time to embrace the refreshing trend of lip oils. Picture this: a luscious slick of goodness that bridges the gap between the subtlety of your natural lips and a touch of captivating finish. Unlike glosses that once ruled the scene, lip oils are here to offer a delicate "your lips but better" glow. Join the trend as we bid farewell to yesterday's gloopy glosses and say hello to dewy and nourished lips in a jiffy!
What are Lip Oils? 
Lip oils are the trendy fusion between lip balms and glosses. Unlike traditional lip products, they offer a delicate tint and a clear shine. These oils pamper like balms, boasting nourishing properties, while adding a non-sticky, glossy sheen. In a world shifting towards a lighter aesthetic, lip oils have become the go-to essential for that elegant and refreshed look.
Benefits of Lip Oil
Do you really Need a Lip Oil?
Lip oils aren't just a trend; they're a beauty essential that transcends style. With ingredients like jojoba oil, coconut, and argan oils, they're a skincare ritual for your lips. Beyond the subtle colors and glossy sheen, lip oils offer unparalleled hydration. They lock in moisture, soften your lips, and shield them from dryness. Upgrade your lip care routine with these nourishing elixirs that go beyond aesthetics.
What is the Difference between a Lip Gloss and a Lip Oil?
Distinguishing lip gloss from lip oil is a matter of texture, finish, consistency and purpose. Lip gloss flaunts its vibrant colors and high-shine, often with a sticky feel for bold statements. On the other hand, lip oil leans towards subtlety and hydration, featuring a lightweight, oil-based formula. It offers a sheer tint or transparent gloss, enhancing a natural, healthy look.
Why are Lip Oils trending? 
Why are Lip Oils stealing the lip care spotlight? These gems are like a spa day for your pout, packed with goodies that drench your lips in hydration and natural oils. It's like a mini-vacation for your lips!
And guess what? They are the perfect wingmate for the clean beauty and self-care craze. With their 'barely there but totally there' vibe, they're like your lips, but upgraded. Instagram and Influencers are on fire with lip oil love, proving they're not just a trend – they're the lip game-changers we've been craving. Get ready to swap out the ordinary and dive into lip luxury! 
The Typsy beauty Shade Shifter Lip and Cheek Oil
Introducing the ultimate game-changer – the Shade Shifter Lip & Cheek Oil! This is the product everyone's buzzing about, and trust us, it's not your ordinary lip and cheek treat! This oil reacts to your unique pH, giving you a tailor-made pink tint that flatters every skin tone.
Infused with the goodness of Acai Berry and Hibiscus oils as key ingredients, it's like a hydration haven for dry lips, leaving them silky-smooth. Swipe it on your cheeks for that fresh, dewy flush that screams radiance and a long-lasting hydration. Give it a whirl and watch the magic unfold!
How to use it? Lip-and-Cheek
So step aside, lipsticks of yore! Lip oils are strutting in, ready to pamper your pout. Whether you're a balm buff or gloss boss, lip oils are the sassy sidekick your lips have been craving. It's time to pucker up for a lip treat that's a glam slam! When are you getting one?
Frequently Asked Questions (FAQs)
Are Lip Oils Good for Your Lips?
Absolutely! Lip oils are a lip-loving delight. Packed with nourishing oils, they hydrate, shield, and add a touch of dewy shine. Your lips will thank you!
What do Lip Oils Do?
Lip oils provide hydration, nourishment, and a tint of color. They moisturize like balms, offer a glossy sheen like glosses, and often contain beneficial ingredients for healthier, more luscious-looking lips.
Can You Wear Lip Oil to Bed?
Yes, you can! Lip oils are great for bedtime and not just a part of your beauty routine. They help hydrate and keep your lips nourished overnight, waking up to a smoother, more moisturized pout.
Lip Oil for Dark Lips?
Certainly! Our lip oil isn't just for the look—it's a nourishing potion. It brings a dewy shine even to pigmented lips, providing both radiance and hydration.
Lip Oils with a Big Applicator?
Our lip oil has a doe foot applicator that glides effortlessly, hugging every curve for precise, luscious coverage. It's a kiss of perfection for your lips!
How to Use Lip Oil?
Using lip oil is a breeze! Just glide the applicator across your lips, starting from the center and moving outward. Enjoy the nourishing hydration and glossy shine—perfect for a natural look, as a nourishing base layer or as a top coat with other lip products. It's a multitasking product!
Difference Between Lip Balm, Gloss and Oil?
Lip balm focuses on hydration and protection, combating dryness and chapping. Lip gloss offers high-shine and color, often with a sticky texture. Lip oil combines hydration, subtle tint, and a non-sticky, nourishing formula for a balanced and glossy finish.
Collection 2019
Sale 70% Off
Third slide