Conceal and Reveal: The Ultimate Concealer Hacks of 2023
Posted by KAIRAVI BHARAT RAM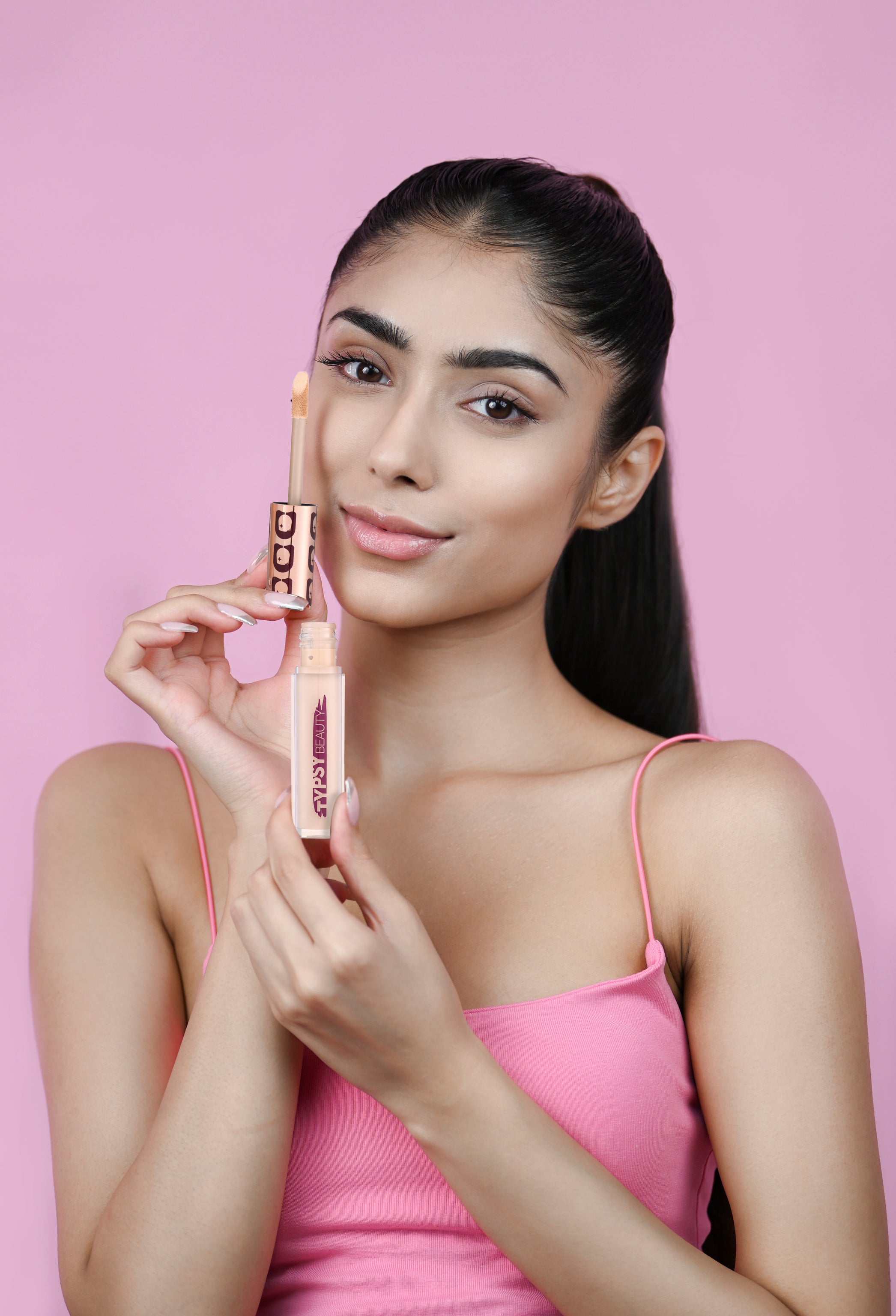 Are you tired of your concealer not giving you the desired results? Do you find yourself struggling with dark circles and blemishes? Worry no more! In this blog, we will share some incredible concealer hacks that will take your makeup game to the next level. From the basics of how to apply concealer, to advanced tips on highlighting and glow, we've got you covered. You'll learn how to make your concealer last longer, how to use it for lip tricks, and much more. Get ready to conceal and reveal like a pro!
  
Highlight and Contour using a concealer -  
As a general rule, opt for one shade lighter than your concealer shade for highlighting and two shades darker for contouring. Apply the lighter shade of concealer to the inner corners of your eyes, along the tops of your cheekbones for a subtle lift, and down the middle of your nose if you desire a slender appearance. For the added magic, accentuate the edges of your lips and your chin. Don't forget to blend it all out seamlessly to create a flawless finish! When it comes to contouring, the approach is quite similar: Shadow the parts of your face that you want to appear more sculpted with the darker shade of concealer. Typically, this includes the cheekbones and the area beneath the jaw. To achieve this effect, apply contour concealer along the borders of your hairline, around your temples, under your jawline, and beneath your cheekbones. This technique adds dimension and definition to your face.


You can use the shade 02 Prosecco from our Hangover Proof Full Coverage Concealer Range for highlighting and the shades 07 Dark Rum and 08 Espresso Martini for contouring.
 
 The Natural Face Lift -  
 This hack is currently ruling hearts. Begin by starting from the outer corner of your eye and applying a generous line of concealer. This line should follow to frame your nose, embrace your cheekbones, accentuate your Cupid's bow, and end gracefully under your chin. To enhance the effect further, add a hint of bronzer. This technique works wonders in lifting, sculpting, and defining your face for a stunning look.
 
 The Sandwich hack -  
 Have you ever experienced the frustration of trying to conceal acne with concealer, only to have it bring more attention to the affected areas? Give this technique a try, known as the "sandwich concealer" method. Start by using a concealer that matches your skin tone before applying foundation. Once your foundation is applied, go over the same spots with concealer once more. This approach provides improved coverage that stays in place for a longer duration.
The quick brow fix - 
 Avoid a trip to the salon by using concealer to address stray eyebrow hairs. Apply a thin line of concealer beneath and above your eyebrows using a fine brush or the wand provided with the concealer. Let it dry for a moment, then gently blend the product. This technique not only conceals unwanted hair strands but also enhances the definition of your eyebrows.
Lush lips made easy -  
 Achieve plumper-looking lips with the help of concealer. Apply a light concealer to the center of your lips, blending it out using your fingertips to create a fuller appearance. For a precise and sharp lip line after applying lipstick, use a fine-tip brush to outline your lips with a small amount of concealer. Then, smooth out the edges with the same brush for a celebrity-worthy pout.
Crease free under eyes -
 Discover a game-changing trick to combat creasing concealer under your eyes. Once you've applied the concealer, gently blot the area using a thin tissue. This simple step effectively prevents the product from settling into fine lines and creases. Finally, press and swipe a light layer of loose powder to set your concealer in place, ensuring a flawless finish that lasts. Our range of the Hangover Proof full coverage concealer is a sweat, water and crease proof formula that won't cake or settle. Try it now with this hack and experience that natural matte finish that will last you all day!
Make your own blush -  
 Create your own custom blush by mixing your favorite lip colors with concealer. Simply blend a small amount of lipstick with concealer on the back of your hand to achieve a creamy pigment. Then, gently buff it onto your cheeks for a flawless finish. This technique is ideal if you enjoy a monochromatic appearance that ties your makeup look together beautifully.
Enhancing Collarbones with Concealer -
 Add a touch of allure to your nighttime appearance by highlighting your collarbone. Simply shrug your shoulders and apply a thin layer of light-colored concealer to the protruding area of your collarbone. Next, accentuate the natural contours by tracing them with a concealer two shades darker than your skin tone. Use a damp makeup sponge to seamlessly blend the products, ensuring a flawless finish without any harsh lines.
 
Moisturize but with a concealer -  
Create your own tinted moisturizer by mixing a dollop of face cream with a solid amount of liquid concealer. Your skin will feel nice and hydrated, with a super-subtle tinted finish. The Typsy Beauty Hangover Proof Concealer is Made in Korea and is infused with shea butter that will keep your skin hydrated giving you that natural matte finish.
 
Revive Tired Eyes: The Quick De-Puffing Technique-  
 If you frequently wake up with tired, puffy eyes, this two-minute hack will work wonders. Get ready to transform your look! Simply combine your liquid highlighter or illuminating moisturizer, eye cream, and concealer in equal amounts and mix it on the back of your hand. Using your ring finger, gently apply this mixture beneath your eyes and blend thoroughly. Experience the magic as your under-eye area brightens up and puffiness is concealed, leaving you with a natural, refreshed appearance.
Maximize Coverage:  
 Let Your Concealer Settle. Achieving better coverage is as simple as giving your concealer a little time to work its magic. Apply it to your problematic areas and allow it to sit for several minutes. During this time, the concealer will thicken and adjust to your body's warmth, intensifying its formula for enhanced performance. Afterward, use a brush or beauty blender to effortlessly blend it out, resulting in a flawless and seamless finish. Our Hangover Proof Concealer is a lightweight formula that gives you full coverage, an optimal choice to acquire that maximum coverage with this hack.
We have already got you covered with a blog explaining how to choose the right shade for your skin tone, check it out here - https://typsybeauty.com/blogs/face/finding-your-perfect-match-how-to-pick-the-right-concealer-shade-for-your-indian-skin-tone



Concealer can work wonders when it comes to hiding blemishes, dark circles, and other imperfections. However, it's all about how you apply it! So go ahead, try out these hacks, and see the difference they make in your makeup routine.
Collection 2019
Sale 70% Off
Third slide