Unleashing the Power of Lip Oils: Top Benefits for Beautiful Lips
Posted by KAIRAVI BHARAT RAM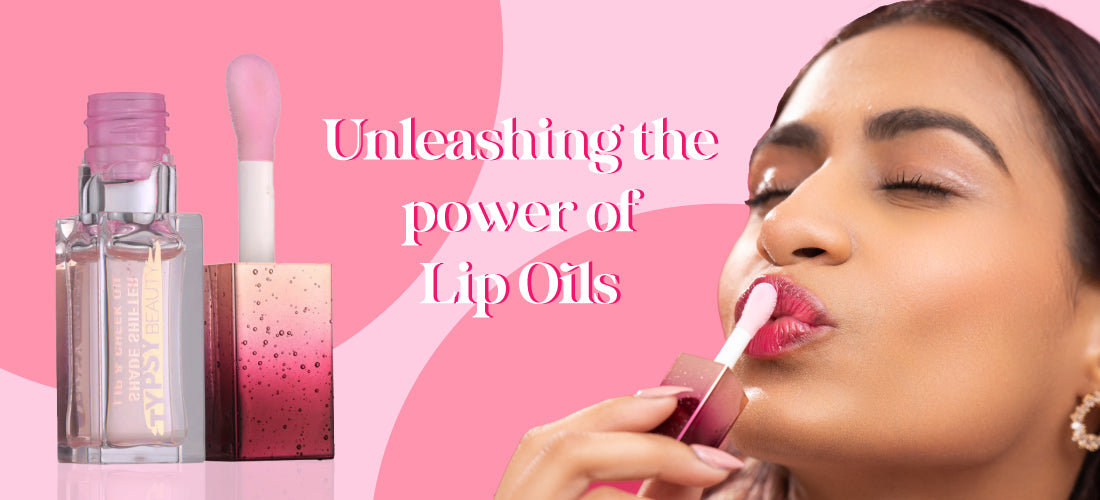 Who doesn't want to have beautiful, luscious lips? We all dream of having that perfect pout, and lip oils might just be the secret to achieving it. Lip oils have become a popular trend in the beauty industry, and for good reason. With their hydrating and nourishing properties, lip oils offer a host of benefits that can transform your lips and enhance your overall makeup routine. In this blog, we will delve into the world of lip oils, exploring what sets them apart from other lip products, why they are gaining popularity, and how they can benefit your lips.
Understanding Lip Oils
What Sets Lip Oils Apart from Other Lip Products?
Lip oils are an excellent way to keep your lips hydrated and soft. Unlike other lip products, lip oils contain natural ingredients that help to moisturise and protect your lips.
The Emergence of Lip Oil Trend in the Beauty Industry
In recent years, lip oils have taken the beauty industry by storm. Gone are the days of dry, cracked lips and sticky glosses. Lip oils offer a game-changing solution to achieving a glossy pout and keeping your lips hydrated throughout the day. The benefits of lip oils, coupled with their lightweight and non-sticky consistency, make them a must-have in every makeup bag.
Why are Lip Oils Gaining Popularity?
The popularity of lip oils can be attributed to the numerous benefits they offer. Firstly, lip oils provide intense hydration and moisture to your lips, preventing dryness and chapping. This is especially important during colder months or dry climates when lips are more prone to becoming dry and cracked. Additionally, lip oils often contain natural ingredients, making them a healthier and more sustainable lip treatment option compared to lip balms or glosses that may contain synthetic additives.
Another reason for their popularity is their lip gloss-like consistency, minus the sticky feeling. Many of us love the look of lip gloss, but the sticky texture can be off-putting. Lip oils, on the other hand, provide a gloss-like finish without the stickiness or heaviness, giving your lips a dewy and plump appearance. They are also available in various shades, allowing you to add a touch of colour to your lips while keeping them moisturised and nourished.
How Does Lip Oil Benefit Your Lips?
We've talked about the benefits of lip oils, but how exactly do they work and how do they benefit your lips? The hydrating properties of lip oils, along with lip liner and lipstick, keep your lips moisturised and prevent dryness and chapping, making them an excellent solution for anyone with dry lips. In addition to hydration, lip oils help to repair and protect your lips from environmental damage, such as harsh weather conditions and exposure to pollutants. They create a barrier on the lips, locking in moisture and preventing further moisture loss.
Applying lip oil is as easy as a swipe of lipstick and lip liner, and you can enjoy the benefits of hydration, nourishment, and a natural gloss finish all in one. Whether you use lip oils as a standalone lip treatment or as a base for your lipstick, they provide a boost of moisture and shine to your lips, giving them a healthy and vibrant look.
How Effective is Typsy Beauty's PH Reactive Colour Changing Lip and Cheek Oil?
When it comes to lip oils, our collection of the Shade Shifter Lip and Cheek oil has gone viral and for all the right reasons. Its PH Reactive Colour Changing formula is a game-changer. This innovative lip oil adapts to your lip's natural shade, providing a customised lip colour that is universally flattering. The shade shifter lip oil from Typsy Beauty adds a touch of magic to your lips, transforming them into a unique and beautiful hue that enhances your natural lip colour.
Typsy Beauty's lip and cheek oil provides hydration and moisture, and its colour-changing formula adds an element of surprise to your lip routine. Experience the magic of shade shifter lip oil and discover how it reacts to your lips, creating a natural and flattering shade that complements your skin tone and individual lip colour. With Typsy Beauty, you can enjoy the benefits of lip oils while adding a pop of colour to your lips.
Conclusion
Lip oils have become a game-changer in the beauty industry. They offer a unique and effective way to nourish and enhance your lips. Unlike other lip products, lip oils provide deep hydration, long-lasting moisture, and a natural glossy finish. The popularity of lip oils is skyrocketing due to their versatile nature and the added benefits they offer. If you're looking for a lip oil that adds a pop of color to your lips and cheeks and adapts to your skin's pH level, check out Typsy Beauty's PH Reactive Colour Changing Lip and Cheek Oil. It's a fun and innovative product that will leave your lips looking beautiful and vibrant and your cheeks looking dewy. Say goodbye to dry and dull lips and embrace the power of lip oils for a truly stunning smile. There are many benefits to using lip oil instead of simply reapplying your lip balm or gloss. Lip oils not only nourish and soften the lips, but they also provide a protective barrier against environmental factors. Additionally, lip oils often contain hyaluronic acid, plant-derived oils, and vitamin E, which all work together to moisturize and protect the lips.
FAQ's
Are Lip Oils Necessary?
Lip oils are not a necessity, but they can be a fun and trendy addition to your lip care routine. Lip oils are designed to provide hydration and nourishment to the lips, helping to keep them soft and smooth. They often contain ingredients like oils (such as jojoba, coconut, or argan oil), antioxidants, and vitamins that can help replenish moisture and protect against dryness. Lip oils can be especially beneficial for those with dry or chapped lips, as they provide a lightweight and non-greasy alternative to traditional lip balms. Plus, many lip oils come in fun flavours and colours, making them a great way to add some pzazz to your makeup bag. So while lip oils may not be necessary, they can certainly add a little extra oomph to your lip game!
Are Lip Oils Good For Your Lips?
Absolutely! Lip oils are a fantastic addition to your lip care routine. They provide hydration, nourishment, and a beautiful glossy finish all in one. These oils are packed with moisturising ingredients like jojoba oil, coconut oil, and vitamin E that help keep your lips soft and supple. Plus, they come in a variety of delicious flavours that make you want to lick your lips (but try not to - we don't want you eating all the lip oil!). So go ahead and treat your pout to some lip oil goodness – your lips will thank you for it!
Is It Good To Use Lip Oil Everyday?
Using lip oil every day can be a great way to keep your lips moisturised and nourished. Lip oils are typically infused with hydrating ingredients like jojoba oil, coconut oil, or vitamin E, which can help to soften and protect your lips from dryness and chapping. Plus, they often have a glossy finish that adds a touch of shine to your pout. So go ahead and slather on that lip oil daily for luscious, hydrated lips all year round! Kiss dryness goodbye and say hello to a pout that's oh-so-soft and supple
How Do You Wear Lip Oil?
Ready to get those lips looking luscious? Lip oil is a great way to moisturise and add a touch of shine to your pout. Here's how to wear it like a pro:
1. Apply a thin layer: Take the applicator wand and swipe on a thin layer of lip oil across your lips. Start from the centre and work your way outwards.
2. Let it sink in: Give the lip oil a few minutes to sink in and hydrate your lips. You'll notice that it leaves behind a glossy sheen that looks oh-so-pretty!
3. Wear it alone or with lipstick: Lip oil can be worn on its own for a natural, glossy look, or you can layer it over your favourite lipstick for an extra pop of shine.
4. Reapply as needed: Lip oil doesn't last as long as traditional lipsticks, so feel free to reapply throughout the day whenever you need a little boost of moisture and shine.
How Many Times Should I Apply Lip Oil?
Hey there! When it comes to applying lip oil, there's no hard and fast rule. It really depends on your personal preference and the condition of your lips. Some people like to apply lip oil once or twice a day, while others prefer to use it more frequently for that extra hydration boost. If your lips are feeling dry or chapped, you can definitely apply lip oil whenever you need that extra moisture. Just remember, a little goes a long way, so start with a small amount and build up if needed. So go ahead and slather on that lip oil whenever your pout needs a little something!
Collection 2019
Sale 70% Off
Third slide