Unlocking the Power of Skin Care Infused Makeup
Posted by KAIRAVI BHARAT RAM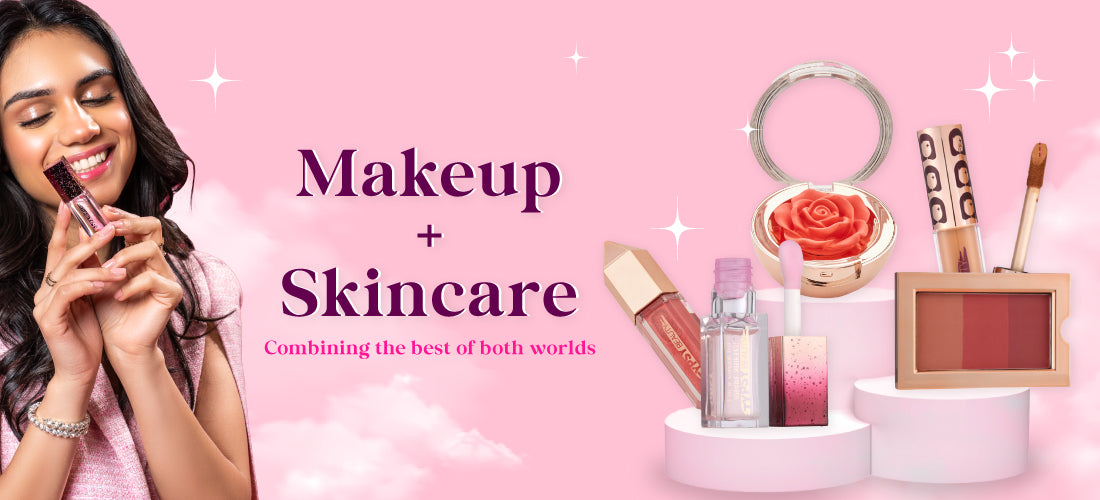 Get ready to unlock the secrets of flawless, radiant skin with the power of skincare-infused makeup! It's time to say goodbye to heavy, pore-clogging foundations and hello to a new generation of beauty products that not only enhance your natural beauty but also nourish your skin from within!
Understanding the Concept of Skincare Infused Makeup
Unlock the magic of skincare-infused makeup, a concept that combines the best of both worlds. These innovative products work wonders by nourishing and improving your skin while providing flawless coverage and enhancing your natural beauty. Packed with antioxidants, vitamins, and moisturizing ingredients like hyaluronic acid and shea butter, skincare-infused makeup hydrates your skin, reduces signs of ageing and dullness, and protects against environmental damage. It simplifies your beauty routine by combining multiple steps into one product. Say hello to a healthy, radiant complexion with skincare-infused makeup.
Skincare-infused makeup is now gaining popularity due to its dual functionality, providing both makeup and skincare benefits. Consumers are becoming more ingredient-conscious, so this trend caters to the demand for multi-functional beauty products that enhance the skin's appearance while offering additional skincare benefits.
Introducing Typsy Beauty's Skincare Infused Makeup
At Typsy Beauty, we're all about infusing skincare ingredients into our products to bring you that extra dose of feel-good vibes in your makeup routine. We believe in a simple truth: when you look good, you feel good. That's why we've created a range of makeup with a formulation that enhances your beauty and nourishes and cares for your skin. With our innovative formulas packed with skin-loving goodness, you can now achieve stunning makeup looks while treating your skin to a little extra attention. Get ready to unlock the magic of makeup with a delightful touch of skincare goodness—because you deserve to feel amazing inside and out!
The Hangover Proof Full Coverage Concealer - A game-changer infused with the mighty powers of shea butter. Say goodbye to dull, dehydrated skin woes and hello to a flawless complexion that's pampered to perfection. This wonder ingredient provides impeccable coverage and nourishes and hydrates your skin like a comforting embrace. Soothing, moisturizing, and bursting with goodness, our concealer with shea butter is your secret weapon for a radiant, refreshed, and rejuvenated look. Embrace the magic of shea butter and unlock the ultimate skincare-meets-makeup experience with our Hangover Proof Concealer. Available in 8 different shades suitable for all Indian skin tones.
Enchanted Garden 3D Rose Blush - Step into the magical realm of The Enchanted Garden with our 3D Rose Blush! Experience the wonders of skin-loving ingredients as you embrace a rosy glow. Infused with the nourishing and moisturizer powers of Carnauba and Vitamin E, this cream blush glides onto your skin like a dream. Unleash its enchanting touch, revealing a natural-looking pop of color that enhances your cheeks. Carnauba hydrates and smooths, while Vitamin E revitalizes and protects. Let your skin bloom!
Crystal Crush Plumping Gloss - Your secret to luscious lips that go beyond the ordinary! Packed with powerful peptides and botanical extracts from the enchanting Kiss Me Quick flower, this gloss gives your pout a boost of natural goodness. Our unique Crystal Bubble Technology creates a mesmerizing glass-like shine, turning heads wherever you go. Crafted with love in Italy, this lip gloss not only makes you look fabulous but also nourishes and cares for your lips and keeps them from drying. Experience the magic of fuller, healthier lips with a touch of irresistible glamour.
The Shade Shifter Lip and Cheek Oil - Our viral sensation: Infused with the incredible power of Acai Berry & Hibiscus oil, this dynamic duo hydrates, soothes, and shields your skin with love. But that's not all! It also transforms color as the pH-reactive formula adapts to your unique chemistry, leaving you with a bespoke pink lip and cheek stain. With the mighty Euterpe Oleracea Fruit Oil as our secret weapon, your skin will experience a burst of nourishment and radiance.
Cha-Ching 3in1 Blush - Enriched with Hyaluronic Acid and White Sapphire, this lightweight wonder brings a double dose of goodness to your beauty routine. Hyaluronic Acid provides a surge of hydration, leaving your skin plump and dewy, while White Sapphire imparts a radiant glow. Say hello to a long-lasting, luminous, and silky formula that not only enhances your cheeks but also nourishes and cares for your skin. It's time to Cha-Ching your way to a flawless complexion!
So say goodbye to compromising between beauty and skincare - embrace the power of skincare-infused makeup today! Visit our website to explore the range and find your perfect match. Your skin will thank you!
Collection 2019
Sale 70% Off
Third slide