How to choose the lipstick(s) that talks your talk?
Posted by TYPSY BEAUTY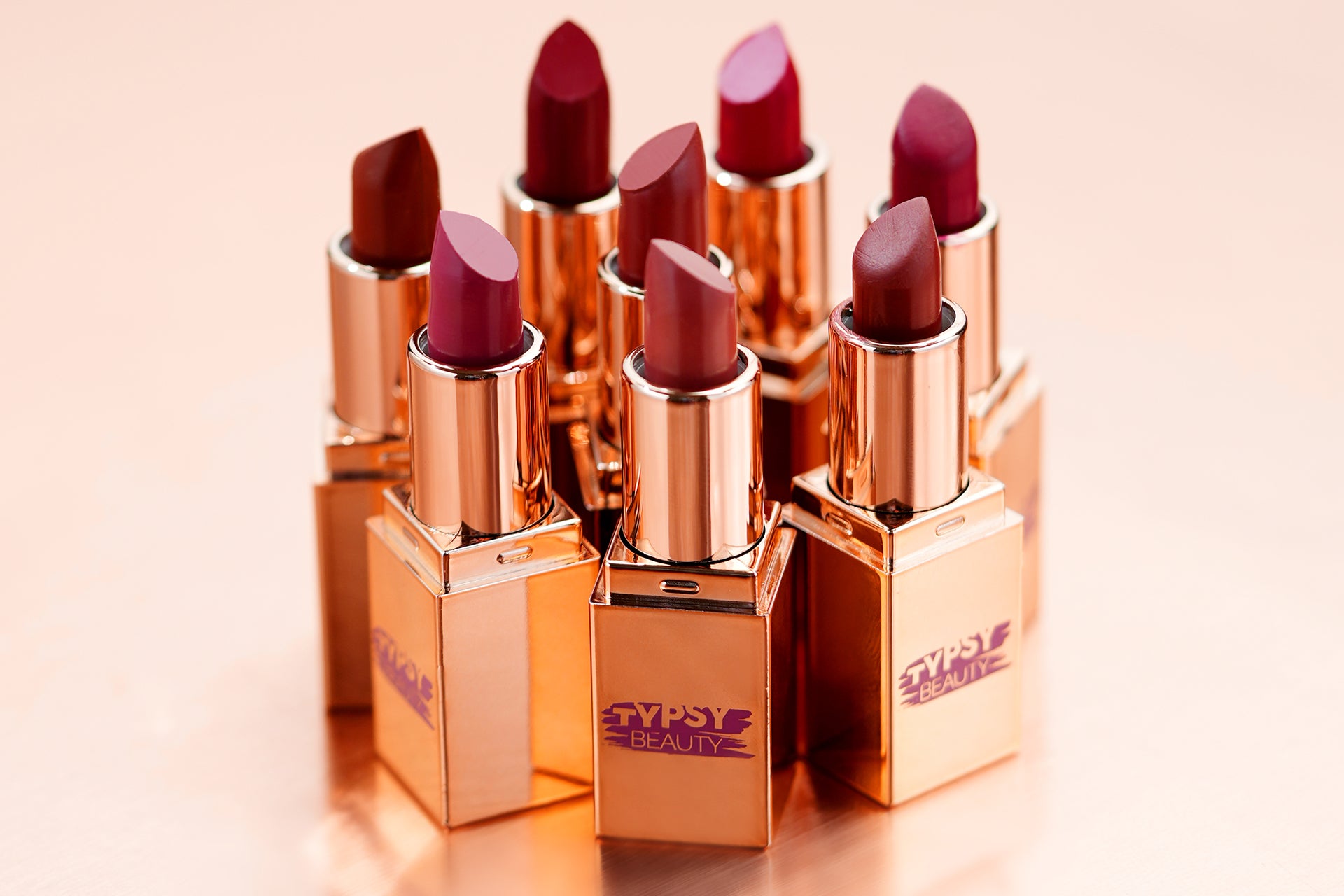 We believe that makeup is never too much, but if it was a question of survival and we had to choose just one colour cosmetic, it would perhaps be the lipstick. Why? Because without lipstick our makeup looks incomplete. In fact, just a swipe of the right colour on your lips can instantly uplift your look. Read on to know how to pick the perfect lip shade for you.
Celebrity makeup artist, Bobbi Brown says, "If I had to teach someone just one thing about lip colour, it would be this: Find a lipstick that looks good on your face when you are wearing absolutely no makeup." So how does one find that elusive shade in the lipstick jungle? Let's explore.
What Are Skin Tones & Undertones?
Skin tones and undertones are two different things. Skin tone is the surface colour of your skin and depends on the melanin present in the top-most layer of the skin. Skin tone is broadly divided into four categories: Fair, Light, Medium and Deep. Undertone on the other hand is the colour from underneath the surface of your skin that affects your overall hue. There are three undertones – Cool, Warm, and Neutral. 
While you can determine your skin tone by the way your family and friends speak about your complexion, determining the undertone requires a bit of investigation.
All that Glitters: One of the quickest and easiest way to figure out your undertone is by observing how gold versus silver jewellery looks on you. If gold looks better on you then you perhaps have a warm undertone. If silver looks better, then possibly you have cool undertones. If both look good, then you have a neutral undertone.
Running in Your Veins: You could also look at your veins to determine the undertone. Are they a blue or purple hue, or are they greenish in colour? A blue or purple hue means you likely have a cool undertone, while green leans towards warm. If you find your veins are neither or in-between the two, you might be neutral.
Under the Sun: You could also think about how you tan. If you burn quickly or first burn and then tan, you probably have a cool undertone. But if you tan quickly without burning, you're likely warm-toned. Lastly, if you tan slowly, but don't burn very often, you're most likely neutral.
So Which Colour Will You Choose?
Our advice is, just choose whichever colour calls out to you. Anything that makes you feel confident and invincible. However, certain cues and general rules can make your choices simpler and nudge you towards the perfect shade. Here's a ready reckoner.
Cool Shades: These will include lipstick colours in blue-purple undertones. For example, if choosing a red lipstick, opt for bluish reds like the iconic M.A.C Lipstick in Ruby Woo or Typsy Beauty Happy Hour 2 for 1 Mini Lippies in Red Red Wine. If you are veering towards pinks, you can always rely on the classic Maybelline Super Stay Matte Ink Lip Color in Inspirer, but if you are in the mood to experiment, try Typsy Beauty Happy Hour 2 for 1 Mini Lippies in Raspberry Rush. For browns go for Taupe-Beige hues like Bobbi Brown's Crushed Lip Colour in Buff or Typsy Beauty Happy Hour 2 for 1 Mini Lippies in Love You S'more. If you prefer nudes opt for ones with pink undertones like Typsy Beauty Happy Hour 2 for 1 Mini Lippies in Honey Boo or NYX Professional Makeup Soft Matte Lip Cream in Cannes.
Warm Shades: These colours have a golden or peach-coloured undertone. Try Bobbi Brown Lip Color in Burnt Red, Lakmé Absolute Luxe Matte Lip Colour in Dewy Spring, Revlon Ultra HD Gel Lipcolour in Rhubarb and Typsy Beauty Hour 2 for 1 Mini Lippies in Spice Girl, Bubblegum Pop, Hot Chocolate or Caramel Kiss.
Neutral Shades: These undertones are neither cool nor warm and can look flattering in both warm and cool shades. Try Maybelline New York Shine Compulsion Lipstick in Cinnamon Cookie, Colorbar Deep Matte Lip Crème in Deep Earth and Revlon ColorStay Ultimate Suede Lipstick in Socialite.
Having said that, we feel that it would be best to simply own Typsy Beauty's Happy Hour 2 for 1 Mini Lippies in all four hues – Nude, Brown, Pink and Red. Between these eight versatile shades, you are sure to find a partner for all occasions and moods every day.
Collection 2019
Sale 70% Off
Third slide